100% Natural layering Kit: : mask, shampoo, conditioner
Want to learn how to make a fabulous, non-greasy, detangling, hair conditioner from scratch? You are going to love this hair conditioner recipe! Great for gifts too! Comes with complete instructions.
This box contains everything needed to make 3 hair care recipes. Enhance your hair with this 100% natural layering:
1 - A Coco & Ricin pre-shampoo oil bath to nourish, strengthen and bring shine to the hair.
2 - A shampoo 100% vegetal Shikakai, for soft and silky hair.
3 - Marshmallow detangling conditioner for wrapping, disentangling and adding volume to your hair.

Cosmetic ingredients you'll find in this kit:
1.Shikakai powder 30g Rich in vegetable saponins, shikakai powder is a cleaning powder used to prepare vegetable shampoos. In the Indian tradition, it is used to make hair soft and silky, prevent dandruff and promote hair growth.
2. Kachur sughandi 30 g
This powder from Indian tradition is used for hair to strenghten, beautify hair and stimulate their growth. It does not darken the light hair and brings volume and shine to fine hair. Its fresh and spicy smell delicately perfumes your hair.
3.Organic oconut oil 100ml
Also known as Coconut Butter, this coconut oil is a very popular ingredient for its softening and nourishing properties on the hair. Exotic and with a heavenly scent, it is also used in hair care to give hair shine and vigor.
4. Grapefruit essential oil 2ml
Grapefruit essential oil is known to promote hair growth and purifying scalp. Its fruity and invigorating scent will pleasantly perfume your hair while bringing them strengh and shine.
5. Organic Amla powder 15g
Rich in vitamin C, Amla is renowned as a powerful regenerator in Ayurveda. This powder is traditionnaly known to prevent hair loss and purify the scalp.
6. Marshmallow powder 10g
Rich in mucilage, Marshmallow forms with water an ideal gelled paste to prepare vegetable masks for the skin or the hair. It works wonders in the preparation of 100% botanical hair care for hair, detangling and beautifying hair, combined with other powders.
7. Organic castor oil 10ml
Castor oil is used in your cosmetic preparations to strengthen nails, hair and eyelashes. Perfect for repairing and nourishing dry, devitalized, split, brittle or frizzy hair, it is famous for promoting its growth. .
Packagings your will find in this kit :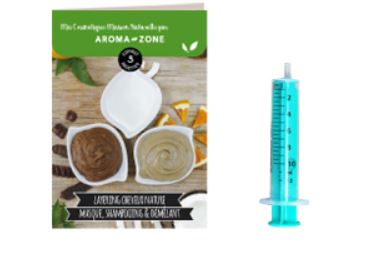 Quick delivery
Place your order before 1pm and return your products in 24/48 ho
8 other products in the same category: